Race A-Series Engine Exchange information :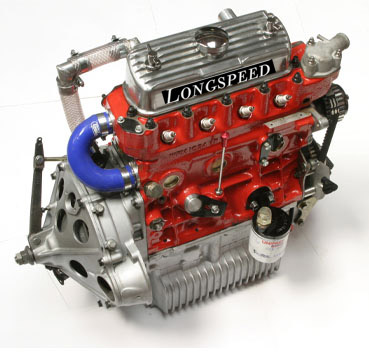 Exchange / Austausch
Cylinder head/Zylinderkopf
All orders on modified cylinder heads are exchange base.
The exchange head must be degreased, fully dismantled, no valves, no studs no bolts.
The combustion chambers must be cleaned to see all crack and fissure.
The following parts must be added to the cast iron head: 16 valve cotters, 8 top valve spring caps.
Die Bestellung eines modifizierten Zylinderkopfes beruht immer auf Austausch.
Der bei der Bestellung zu liefernde Austauschkopf muss in einem sauberen fettfreien guten Zustand sein. Er muss komplett zerlegt sein, keine Ventile, Stehbolzen resp. Schrauben.
Der Brennraum muss gereinigt sein um eventuelle Risse zwischen den Ventilen und Ventilsitzen direkt zu erkennen. Solche Mängel sowie sichtbare Zeichen von Überhitzung haben als Folge, dass sie nicht als Austauschkopf angenommen werden.
Folgende Teile müssen beim Austauschkopf beliegen: 16 Ventilkeilchen, 8 Ventilfederkappen.
Engine / Motor
All orders on engine blocks are exchange base.
The engine block must be degreased, fully dismantled, no pistons, no crankshaft, no studs, no bolts. The core plugs and oil gallery plugs must not be removed. The conrods must be signed, from cylinder Nr.1 to Nr.4. If using the existing flywheel on the rebuild engine the following
Parts has to be added with the flywheel: primary gear,complete clutch system with flywheel,
front damper pulley. All this parts are necessary for correct crankshaft balance.
When order the engine with a new camshaft, we also need the old camshaft (exchange) and the
Distributor. The distributor will be adjusted to the new camshaft.
Die Bestellung eines modifizierten Motorblocks beruht immer auf einem identischen Austausch-Block.
Der bei der Bestellung zu liefernde Austauschblock muss in einem sauberem, fettfreiem gutem
Zustand sein. Er muss komplett zerlegt sein, keine Kolben, keine Kurbelwelle, keine Stehbolzen oder Schrauben. Die Froststopfen sowie die Stopfen der Ölkanäle müssen nicht
Ausgebaut sein. Beim Ausbau der Pleuel mit den Kolben, ist darauf zu achten, dass diese markiert werden müssen, von Zylinder Nr.1 bis 4. Beim benutzen des gleichen Schwungrades
Muss die ganze Kupplung mitsamt Primärrad sowie der Keilriehmenpulley mitgeliefert werden,
um ein gemeinsames Auswuchten der Kurbelwelle zu ermöglichen.
Falls eine neue Nockenwelle eingebaut wird, muss die bestehende Nockenwelle ebenfalls mitgeliefert werden (Austausch). Passend zu der neuen Nockenwelle muss der bestehende Verteiler mitgeliefert werden, damit dieser an die neue Nockenwelle angepasst wird.
Crankcase ventilation