---
Alloy Wheel Repair and Restauration
 Historic genuine "DUNLOP LP922″ Alloy wheel 5 x 10" , professionally restored, finished in black glossy,
polished outer rim, 8-spoke and centre rim.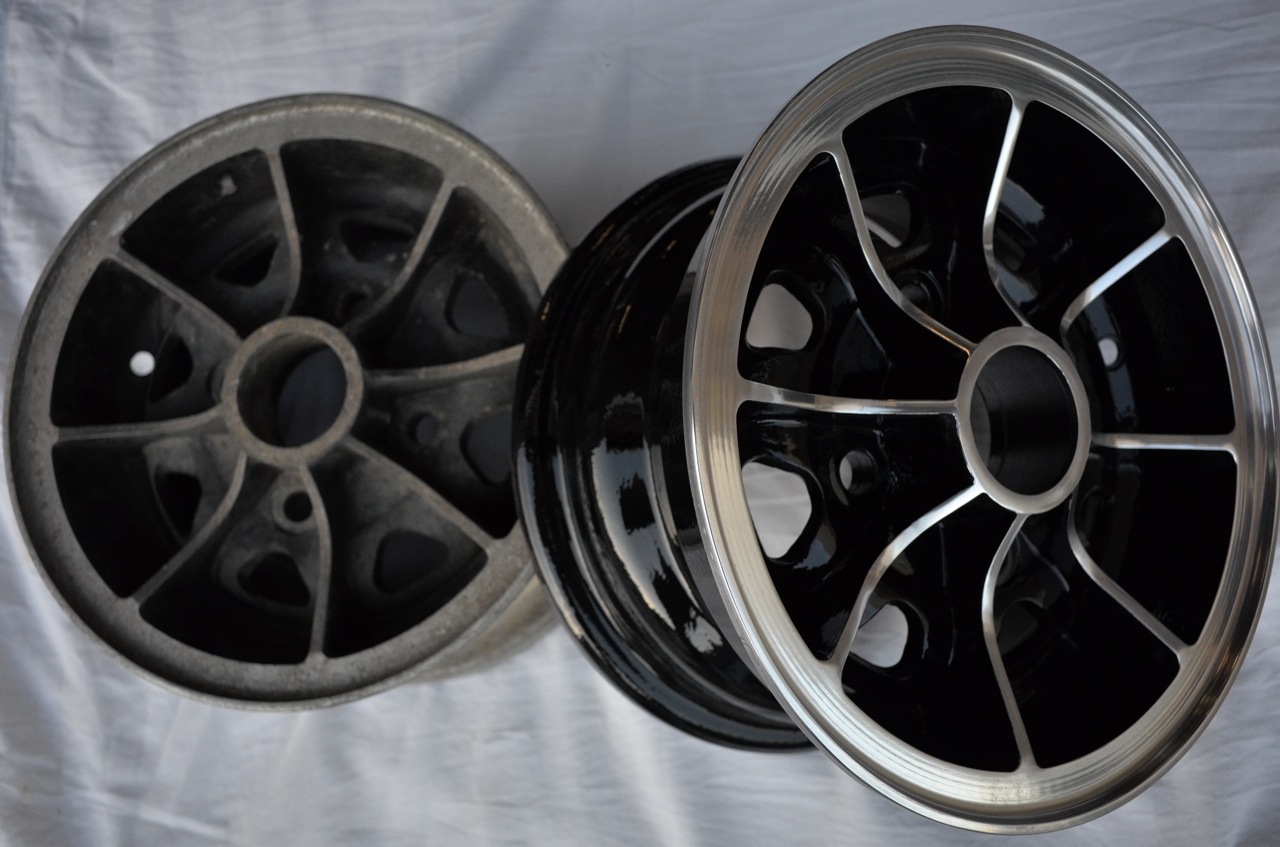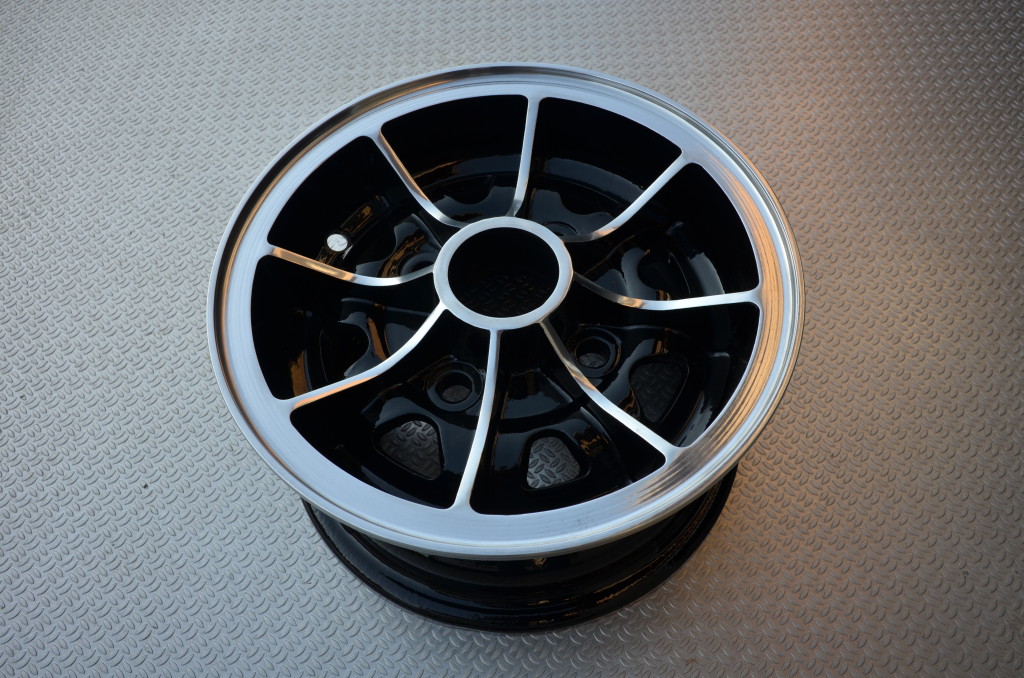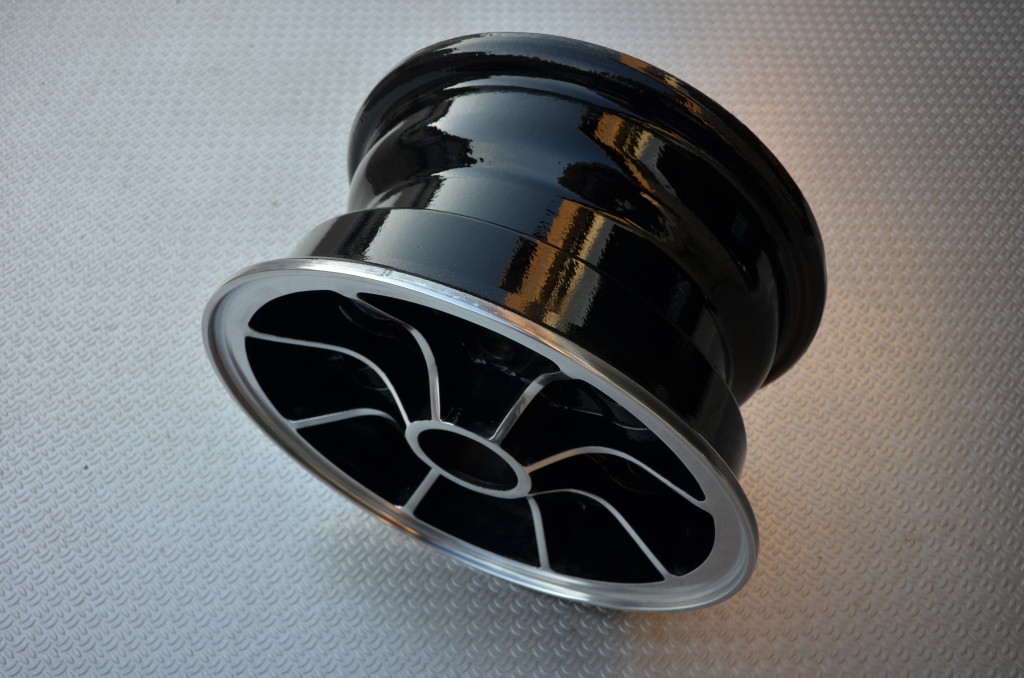 MB 3-piece Racing Wheels
MB centers: available in 12-spoke and 4-spoke, Gold or Silver anodised.
MB rims: outer rims polished Alloy, sizes in 10″/12″/13″ x 2.5″/3.0″/3.5″/4.0″….large
inner rims Alloy, sizes in 10″ / 12″ / 13″ x 2.5″/3.0″/3.5″/4.0″….large
Picture: MB 7 x 10  4-spoke Silver anodised centre 3.5 polished outer/3.5 inner rim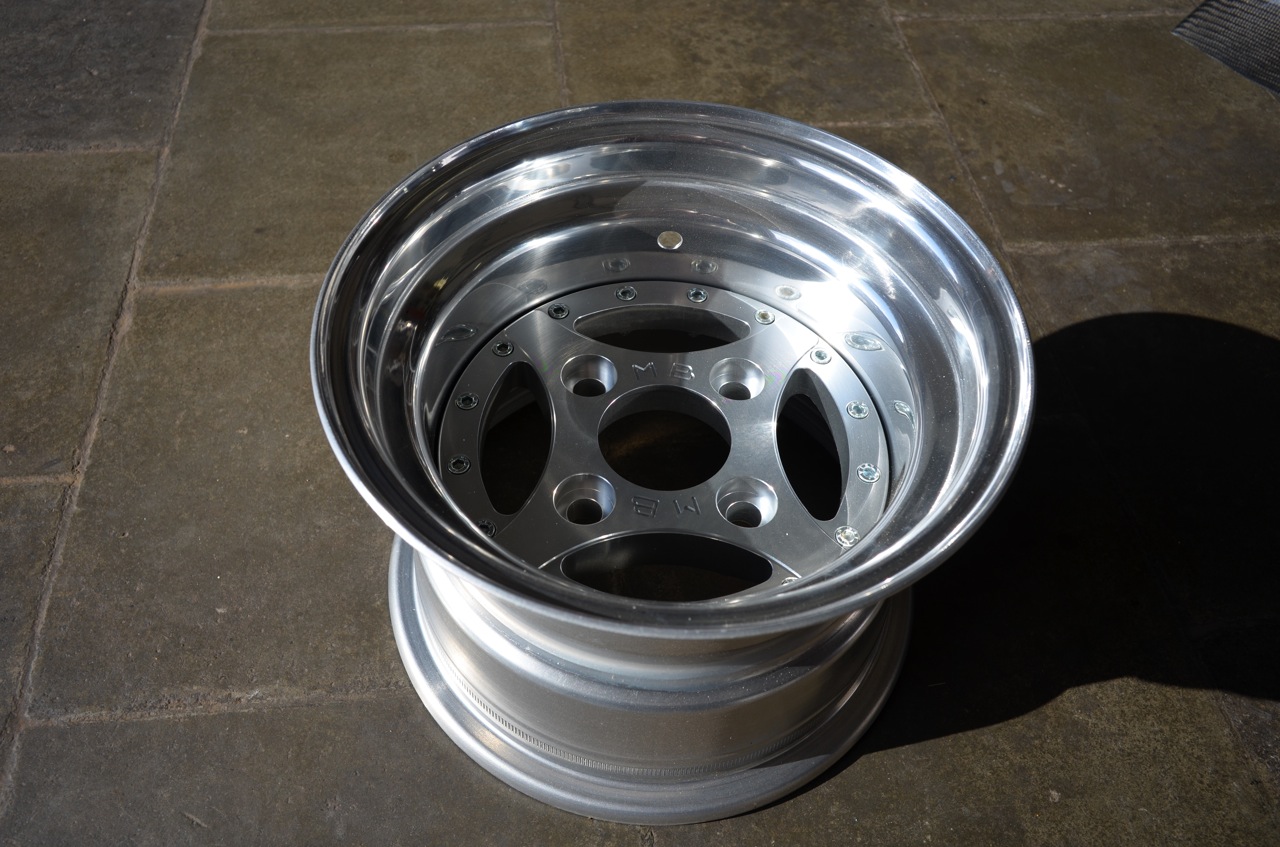 MB 6 x 12  16-spoke Silver anodized centre 2.5 polished outer / 3.5 inner rim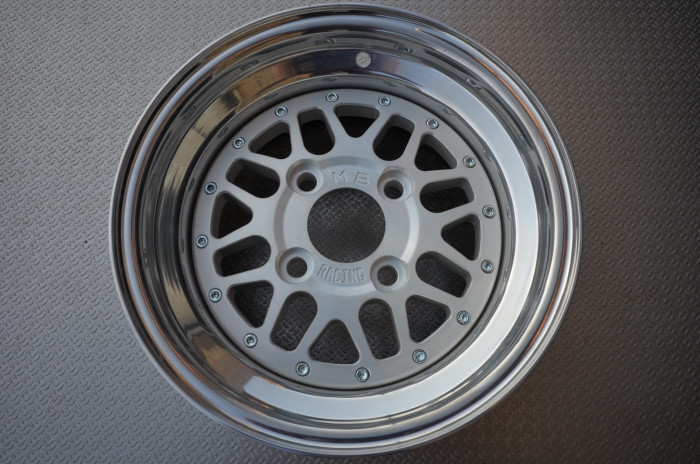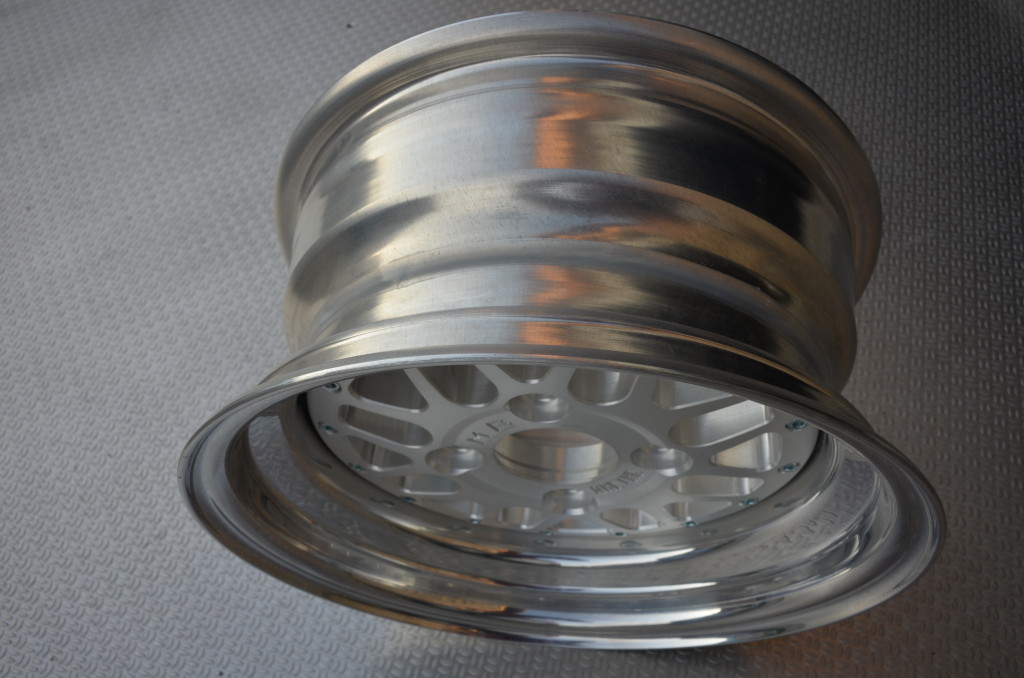 ROVER Alloy wheels
Genuine 4.5 x 12 Alloy wheel, fully restored, powder coated, finished in grey metallic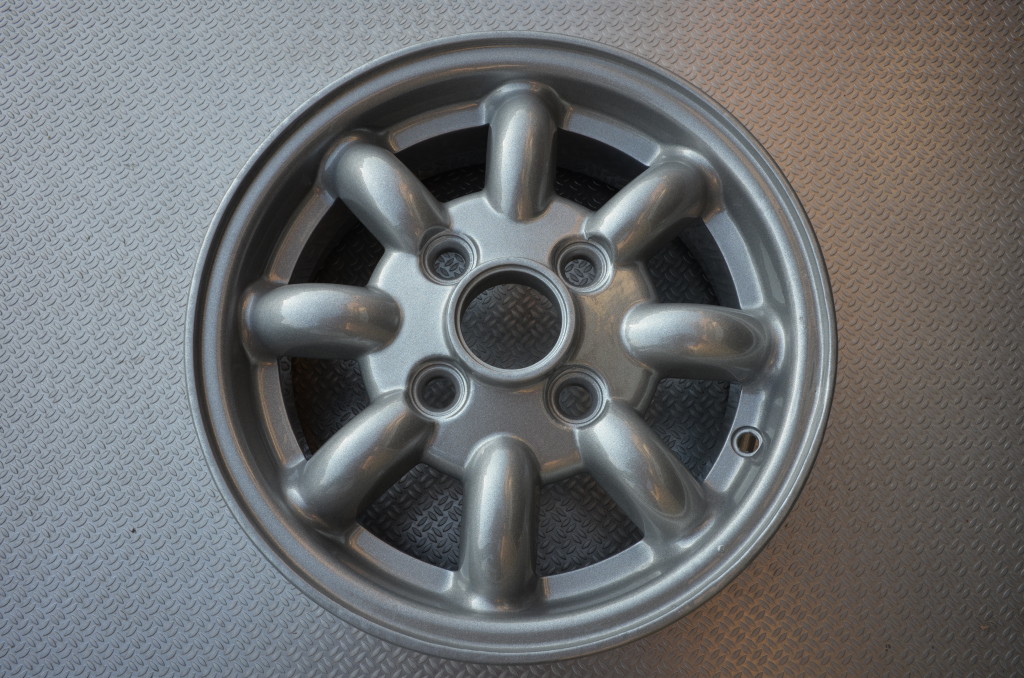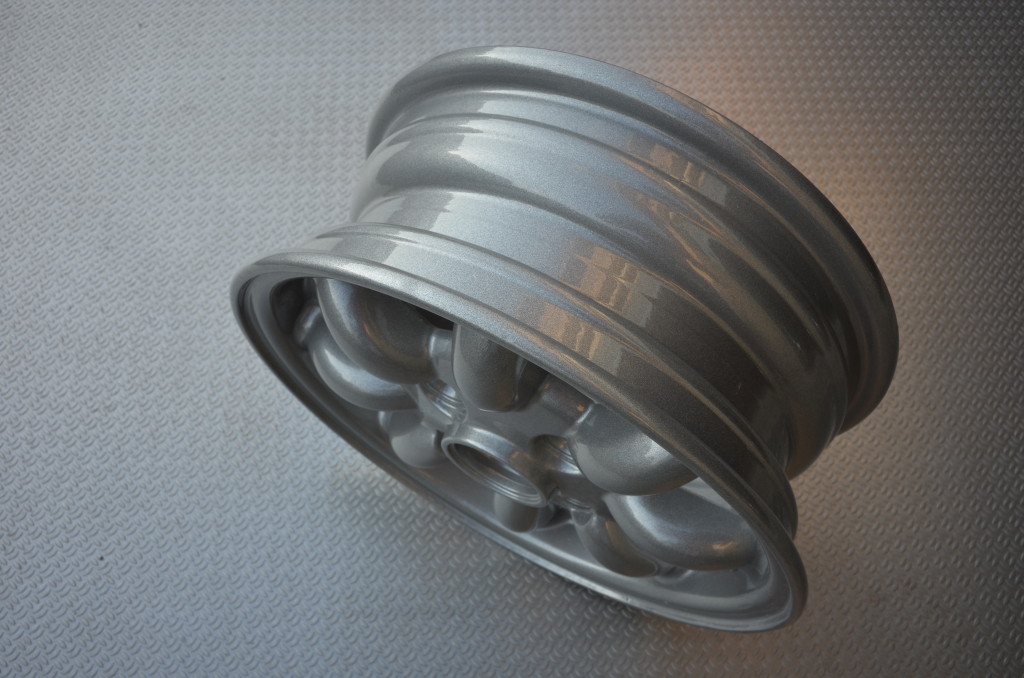 Genuine 4.5 x 12 Alloy wheel, fully restored, powder coated, finished in white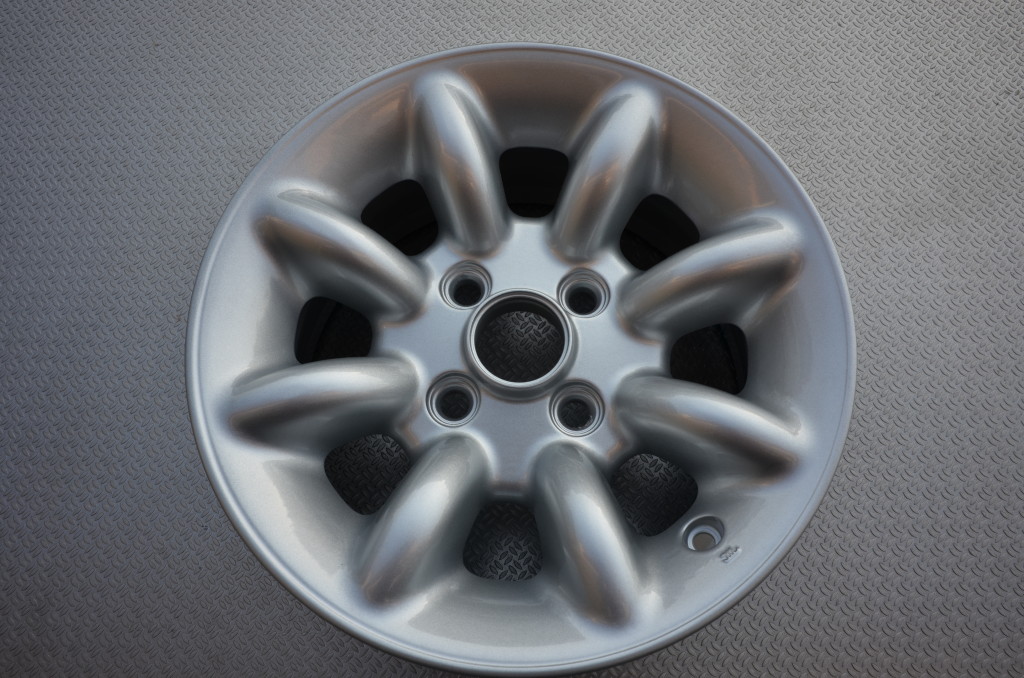 Minilite Mag Style Alloy
Minilite Mag Style Wheels are as the name suggests, cast to the same design as our famous magnesium winning wheels of the 60's and 70's.

The Minilite design has spawned a host of imitations over the years. However, if you want the authentic look there is only one 'Genuine Minilite'.

13×7 Mag Style
Gold optional colour
12×5 Mag Style
Gold optional colour with highlight rim
13×5 Mag Style

MINILITE Alloy Wheel
SIZE
PART No.
APPLICATION
10×4.5
MA1045D
Mini / Cooper
10×4.5
MA1045DS
Cooper S
10×5
MA1050D
Mini / Cooper
10×5
MA1050DS
Cooper S
10×6
MA1060
All Mini
12×5
MA1250
All Mini
13×5
MA1350B
ETO – ET26
13×5.5
MA1355B
ET6 – ET30
13×6
MA1360B
ET8 – ET28
13×7
MA1370B
ETO
13×8
MA1380B
ETO
14×5.5
MA1455B
ET8 – ET33

14×6

MA1460B
ET8 – ET33
15×6
MA1560B
ET7 – ET28
15×7
MA1570B
ET[-]6 – ET16
15×8
MA1580B
ET3-ET[-]16
15×9
MA1590B
ET(-)30 – ET4
15×10
MA1510B
ET(-)13 – ET5
Minilite EV2000
The orginal Minilite wheel made in magnesium was probably the most sucessful motorsport wheel in the 1960's and 70's and in its classic form the design is still winning historic races and rallies today. Unfortunately this classic design with its deep inset is unable to fit modern cars with large offsets – enter the MINILITE EV2000.
As its name suggests, this wheel is an evolution of the original, incorporating the well proven 8-spoke design which affords strength with improved air flow for brake cooling. Aimed primarily at the competition market, the EV2000 is manufactured in primary aluminium, heat treated and machined using the latest technology.
| | | |
| --- | --- | --- |
| | | EV2000 – a marrrriage of new millenium aluminium production technology with the winning characteristics of the original. |
MINILITE EV2000 wheels are available in a variety of offsets to suit a wide range of modern front-wheel and four-wheel drive vehicles. Designed with the serious motorsport competitor in mind, EV2000 wheels represent the pinnacle of aluminium wheel technology at an affordable price. All competition wheels are manufactured in primary heat-treated aluminium, low pressure die-cast, pressure tested and machined using the lastest computer-.controlled equipment.
MINILITE EV2000 wheels are available in four exciting motorsport colours: red, yellow, blue and white. For traditionalists they can also be supplied in silver or gold. All motorsport wheels are fitted with steel wheel nut inserts as standard.
EV2000 Offsets
SIZE
OFFSET
5.5″x15″
ET20-ET40
6.0″x15″
ET26-ET46
6.5″x15″
ET32-ET52
7″x15″
ET38-ET58
7″x16″
ET38-ET58
7″x17″
ET33-ET65
7″x17.5″
ET38-ET70
Minilite Sport
Minilite Sports Wheels were introduced to provide a lower cost alternative to magnesium Minilite in the 70's. The famous 8 spoke design was incorporated with subtle variations from the mag style to provide an attractive and unique Minilite Wheel. Available in a wide variety of offsets and PCD's to suit many different vehicle applications, including a splined adaptor to replace wire wheels.
MINILITE Alloy Wheel
SIZE
PART No.
OFFSET
13×6
MS1360
ET0-ET-30
14×6
MS1460
ET15-ET30
15×6.5
MS1565
ET20-ET35
15×8
MS1580
ET12-ET15

Batch orders only by special arrangement for 'Minilite Sport' wheels
Minilite Magnesium
We continue to manufacture limited runs of original wheels in magnesium, primarily for racing purposes due to their high strength and low weight (33% lighter than aluminium). These are the ultimate competition wheel for racing and rallying where unsprung weight reduction is required without compromising strength and safety.
MINILITE MAGNESIUM WHEEL
SIZE
PART No.
OFFSET
10″x4.5
MA1045DS(M)
COOPER 'S'
10″x5″
MA1050DS(M)
COOPER 'S'
13″x5″
MA1350MAG
VARIOUS APPS
13″x5.5″
MA1355MAG
VARIOUS APPS
13″x6″
MA1360MAG
VARIOUS APPS
15″x15.5
MA1555MAG
VARIOUS APPS
15″x6″
MA1560MAG
VARIOUS APPS
Minilite Merchandise
MINILITE Merchandise
BASEBALL HAT
BLUE
WOOLLY HAT
BLUE
'T' SHIRT –
The Original Motorsport Wheel
BLUE
POLO SHIRT
BLUE
SWEATSHIRT
BLUE OR GREY
FLEECE
BLUE OR GREY
Minilite Motorsport Accessories
MOTORSPORT ACCESSORIES
5-POINT 3″ FULL HARNESS BELT
HELMET HAMMOCK
SPARE WHEEL HARNESS
SHOULDER PADS -3″
ALUMINIUM BONNET PIN KIT (BLUE)
STAINLESS STEEL BONNET PIN KIT
ADJUSTABLE LAMP STEADY BARS
STAINLESS STEEL BOOT SPRING KIT
RUBBER BONNET HOOKS (LARGE)
MINILITE RALLY SCREEN STICKERS
5 POINT FULL HARNESS BOLTS
COMPETITION BONNET
PIN KIT
RUBBER BONNET HOOKS
SPOT LAMP STEADIES
Revolution
Revolution 4 Spoke Road Wheels

6.0 x 10
5.0 x 12
6.0 x 12
4.5 x 13
5.0 x 13
5.5 x 13
6.0 x 13
7.0 x 13
8.0 x 13

Revolution 5 Spoke Road Wheels

6.0 x 15
7.0 x 15
8.0 x 15
9.0 x 15

Revolution 5 Spoke Rally Wheels

6.0 x 15
7.0 x 15
8.0 x 15
9.0 x 15

Revolution MP Road Wheels

8.5 x 18 5/100 Fitment only

Revolution 8 Spoke Classic Road Wheels

5.0 x 10
6.0 x 10
5.0 x 12
5.0 x 13
5.5 x 13
6.0 x 13
7.0 x 13
8.0 x 13
5.5 x 14
6.0 x 14
5.5 x 15
6.0 x 15

Revolution 13″ 4 Spoke Modular Wheels

5.0 x 13
5.5 x 13
6.0 x 13
6.5 x 13
7.0 x 13
7.5 x 13
8.0 x 13
8.5 x 13
9.0 x 13
10.0 x 13
10.5 x 13
11.0 x 13
12.0 x 13

Revolution 15″ 4 Spoke Modular Wheels

6.0 x 15
6.5 x 15
7.0 x 15
7.5 x 15
8.0 x 15
8.5 x 15
9.0 x 15

Revolution Millennium Road Wheels

7.5 x 17
8.0 x 17
7.5 x 18
8.0 x 18
[Gesamt:1 Durchschnitt: 5/5]